EMBRACE Grant for Vermont Microbusiness
In response to COVID-19, the Vermont Community Action Partnership and the Micro Business Development Program came together to establish the EMBRACE (Economic Micro Business Recovery Assistance for the COVID-19 Epidemic) direct grant program. Thank goodness for the acronym!
EMBRACE issues $5,000 grants to businesses with five or fewer employees.
Upcoming Application Round
The EMBRACE grant will open for new applicants existing businesses on December 1, 2021, and will open for returning applicants on March 1, 2022.
Unlike previous rounds, EMBRACE grants will be available to start-up businesses - those who are seeking to open their own business through a special application process starting January 18, 2022.
The grants will be awarded on a first-come, first-served basis. Please plan on spending an hour completing the application form.
*Note, there has been a change made to the timeframe for an existing business. If you were in business (registered or performing business transactions) in 2021 or prior, please file as an Existing Business.
Existing Businesses: APPLY TODAY

Start-Up Businesses: Click Here to Start the Process
Once your application is submitted, please allow up to 14 business days for application processing by a Grant Specialist.

For questions please contact your county's EMBRACE Grant Specialists listed below.
For Grand Isle, Franklin, Chittenden, Addison, Caledonia, Essex, and Orleans Counties, contact Kate Harrison (802) 665-1752
For Rutland, Bennington, Lamoille, Washington, Orange, Windsor, and Windham Counties, contact Lindsey Woodie(802) 445-1314
Next Blog Post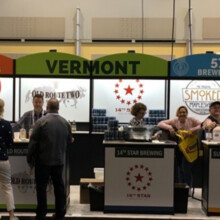 Trade Show Assistance Grants Now AvailableVermont agriculture and forestry businesses can apply for financial support to exhibit at trade shows. Applications will be accepted through March 2, 2022.