Fairbanks Museum Home to Vermont's First Demonstration Mass Timber Building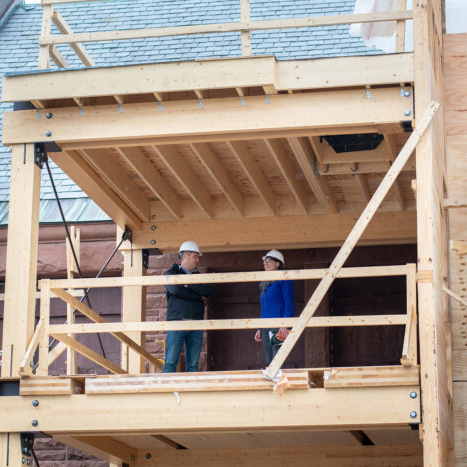 ALIGNED WITH THE FAIRBANK'S COMMITMENT TO DECARBONIZATION, THE NEW ADDITION IS THE FIRST IN THE WORLD TO USE REGIONAL HEMLOCK IN CROSS-LAMINATED TIMBER CONSTRUCTION.
By Christine McGowan, Vermont Sustainable Jobs Fund
"The old adage was large columns, large trees," said Ricky McLain, senior technical director at WoodWorks, "but we don't need to cut down large trees to make columns and beams from wood anymore."
That was the pitch Adam Kane, executive director of the Fairbanks Museum & Planetarium, heard from McLain in 2019. Intrigued by the possibility of using mass timber, which had also been suggested by Tim Tierney at the Vermont Agency of Commerce and Community Development, Kane decided to explore its use for an addition he was planning at the museum.
"It was a perfect fit for a number of reasons," said Kane. "First and foremost, part of our mission is responsibility to the natural world, so using low-embodied carbon construction materials that are sourced locally aligns well with that."
Kane adds that it was important for the 6,500 square foot addition to keep with the historic nature of the original building built in 1890, which has a primarily wood interior and low floor to ceiling height, requiring a relatively small structure depth. "We wanted the addition to feel both current and in harmony with the original building," he said.
"Fairbanks is a gem of a building," said Megan Nedzinski from Vermont Integrated Architecture who designed the addition in collaboration with Engineering Ventures. "Part of the motivation is the lower embodied energy, but the key driver is that it's a local product. And it's really, really beautiful."
What exactly is mass timber?
Mass timber is an umbrella term used to describe a suite of engineered wood products. Cross-laminated timber and glulam beams which are being used at Fairbanks, consist of multiple wood panels that are glued together, providing strength and stability that is comparable to concrete, steel, and heavy timber. Other mass timber products use nails or dowels to create similar structural building components made of solid wood.
Traditionally, large diameter trees were used to provide structural support in buildings. Over decades, the industry moved away from "heavy timber" toward light frame construction, using steel and concrete to provide support in tall, commercial buildings and multi-family homes.
Next Blog Post
"Our business management coaching and Business Sense training series are designed to accelerate the growth of the enterprises we work with and expand the leadership capacity of the entrepreneurs who own…