Family, Forest at Heart Center of Katie Babic Designs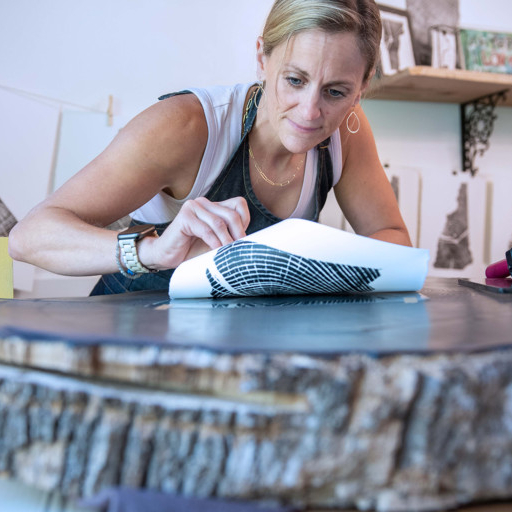 By Christine McGowan, Vermont Forest Industry Network
Gathered under an old pine tree at her husband's family camp in Chelsea Vermont, Katie Babic had a moment of inspiration that would change her life.
The family had come together for a celebration of life, which concluded with sending paper lanterns into the night sky above an old pine tree on the property. One of the lanterns caught in the tree's branches, igniting a moment of concern that the tree might catch fire.
It didn't. But the family realized it was time to take down the beloved pine tree, which had died and become dangerous. "It was an emotional event for the family," said Babic. "There are generations of stories surrounding the symbolism of this tree."
Katie and her husband began to think about ways to memorialize the tree, prompting her husband to bring home a cross section of the trunk. At first they thought they would make cutting boards, but Babic found herself intrigued by the stump. "It was such an interesting shape," she said, "and the rings told a story about its life that felt important."
Growing up in a family of artists, Babic had always expressed her creative side in hobbies—building rock walls, landscape design projects, jewelry-making—but the cookie inspired her to try something new. She googled "tree ring prints" and found a video showing how to burn the surface to raise the tree rings and make a print. From there, her vision came together quickly.
She created a stencil in the shape of Vermont, painted the prepared stump with black ink, and made a print with the heartwood of the tree at the location of the family camp in Chelsea. She made original prints for each family member, and was overjoyed by their response.
What Babic thought would end with those gifts turned into the birth of a new adventure. Family members began asking for prints to share with cousins and friends, and then those friends convinced her to put her work on Instagram. "It was a cathartic process for me and I loved sharing it," said Babic, "so I decided I would put myself out there. I figured the worst that could happen would be that no one would want them."
To the contrary, Instagram loved her prints as much as her family and friends and Katie Babic Designs was born.
Next Blog Post
By Christine McGowan, Vermont Forest Industry Network Dave Nelson is on a mission to bring sauna culture to the United States. With his partner, Nicole Sweeney, Nelson founded SAVU in Cambridge, Vermont…