First Confirmation of Beech Leaf Disease in Vermont
Vernon, VT - Beech leaf disease (BLD), caused by the invasive nematode or roundworm Litylenchus crenatae mccannii, has been confirmed for the first time in Vermont. After receiving a report of potential BLD in southeastern Vermont, staff from the Forest Health program of the Department of Forests, Parks, and Recreation (FPR) collected symptomatic leaves from American beech (Fagus grandifolia) saplings. Samples were sent to a US Department of Agriculture Forest Service Laboratory for DNA confirmation in early October 2023, and BLD has now been officially confirmed within the state.
This invasive species has currently been reported in 14 states, and Ontario, Canada. The most recent reports are in Vermont (2023), Maryland (2023), New Hampshire (2022), Maine (2021), Massachusetts (2020) and Rhode Island (2020).
Next Blog Post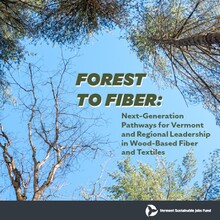 By Christine McGowan, VSJF The potential for wood to replace plastic in woven and nonwoven textiles is progressing rapidly, offering new market development opportunities across the Northern Forest region,…