Fun, Form, and Function: Hauskaa joins VWWC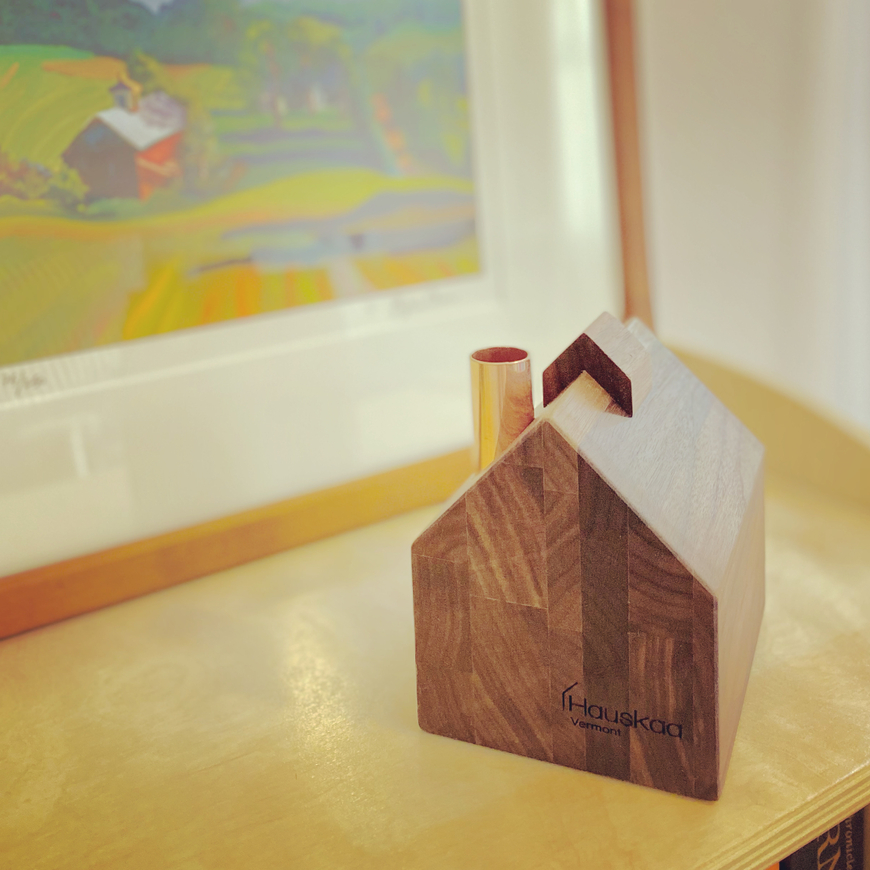 The newest member of the Vermont Woodworks Council is Hauskaa. Based in Burke, Hauskaa is a maker of little wooden houses for fun, form, and function. Hauskaa's handcrafted houses can serve as candleholders, keepsakes, conversations pieces, collectibles, or part of a design-forward Nordic village as a Christmas-time decoration. Pieces come in unique, modern designs that are a take on classic architectural styles such as barn, Colonial, farmhouse, and many more. All of Hauskaa's pieces are made from upcycled wood from the scraps of local furniture makers.
Ann Nygard is the owner and craftswoman of the business that began in 2019. Ann has spent time living in Finland and Sweden, and through that time in northern Europe came to adore streamline, minimalist Nordic design. It also inspired the name of the business: Hauskaa is the Finnish word for "fun." In November of 2019 Ann suffered a concussion due to a car accident which prevented her from looking at a computer screen in her day job, director of the Center for Professional Studies at Northern Vermont University. It was during this time off that she developed an interest in woodworking and combined it with her love of home. She joined the Foundry Maker Space in Lyndonville which helped her learn the trade, and she started Hauskaa in 2020.
Partnering with local furniture makers, Ann receives scrap pieces and byproducts that come from the furniture making process. Using this wood, she creates blocks which are fashioned into the house design with a copper chimney inserted. The piece is painted and finally, the Hauskaa logo or other custom work is laser cut creating a clean and precise image. Ann said that there has been a high demand for pieces made of walnut, but she has also used maple as well. Hauskaa now employs two makers in Vermont and has also added a line of Christmas trees made in Maine from leftovers from a baseball bat manufacturer. She is always seeking ways to work with and help other woodworks businesses in any ways possible.
Ann continues to lead the Center for Professional Studies at Northern Vermont University. Recently awarded a Northern Border Regional Commission Forest Economy grant, she works to help grow and develop the broader forest and wood product industries by developing a Forest Product Accelerator space in Lyndonville, VT, oversee the development of an accelerator program to assist growing forest and wood working businesses to the next level, and working with partners to develop career pathways for the Vermont workforce.
Hauskaa joined the VWWC in July. Ann describes herself as "still a novice" when it comes to her woodworking skills and is always looking to improve. She is looking forward to the connections to be formed through the Council and to "be a sponge" absorbing the expertise that is in the Council.
Next Blog Post
There are a couple of pandemic relief programs that you need to be aware of.  You may have received emails from the SBA or your funding bank making you aware of these programs already. You may not qualify…