Logger with Environmental Intentions Joins Council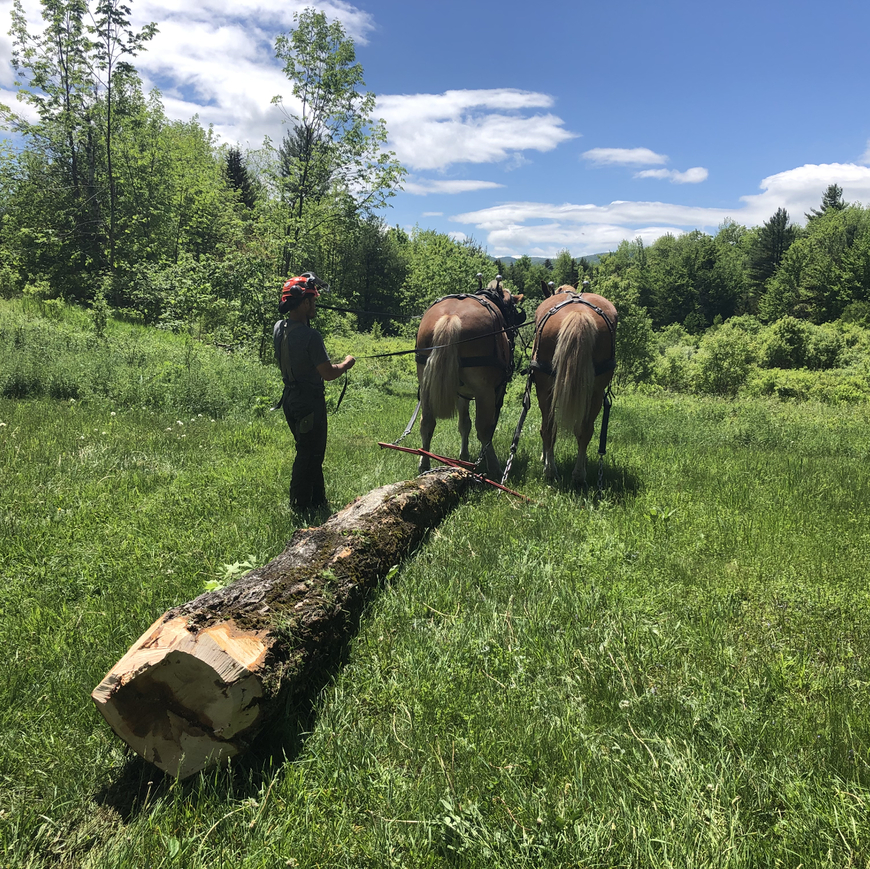 We welcome Third Branch Logging as a new member of the Wood Works Council.
Third Branch Horse Logging is located in Braintree, VT, and is owned and operated by Brad Johnson, Derek O'Toole, and John Plowden. Third Branch uses draft horses and some machine used for commercial logging, land management, timber/firewood, and residential tree services around central Vermont. Brad and Derek have over 25 years of experience farming and logging with draft horses, and the newest partner, John, brings over 30 years of experience as a builder, cabinet maker, machine operator, and horse logger to the business. With that knowledge, they seek to bring practical draft horse application to a modern logging setting. Third Branch is in the process of adding a lumber manufacturing facet to their business creating custom hardwoods. In addition to these activities, Third Branch also offers traditional, horse-drawn sleigh rides in the winter.
Using draft horses allows the team to log in a way that is more surgical and promotes sustainability. The horses are particularly helpful with "log length" timber because they can maneuver more easily with felled timber than a machine can. After the tree is felled and logs cut to their desired length, the horses pull them out of the area where they can be transported by truck. This creates less of a disturbance on surrounding trees and vegetation in the area. Small tractors and a forwarding wagon are used for when the job requires traveling long distances or if the specific situation requires it. The lighter impact of horse logging makes it a good option for smaller, residential tree work as well.
In addition to less disruption of vegetation, the use of horses reduces soil disturbance in the areas where they work. This helps the soil maintain the qualities necessary to promote renewed growth in the logged area. Third Branch's work also creates a superior residual stand in forests. In this different approach to logging obtaining a maximum yield is not usually the goal of a logging project. Clients and the Third Branch team think long-term and want to leave the best residual stand that will keep the land in an ecologically sound position.
Third Branch logging clients vary in background and the kinds of work they would like done. Horse logging is not always feasible for certain kinds of jobs, which the company readily tells potential clients. However, most of their clients share a common desire in that all have sustainability in mind. While they do want to harvest timber, it is not their main goal. Clients highly consider environmental factors such as wildlife or carbon sequestering, or they have some other recreational goal in mind like making trails in their woodland.
After operating as solely a logging-related business since its beginning, Brad explained that he and Derek saw the need to add a lumber focus in order to stay financially sound. While horse logging has its benefits, it is a specific way to log that cannot be applied to every commercial logging job. This makes them a "square peg in a round hole" within the logging industry as Brad put it. The lumber portion of the business allows for another avenue of profit within the wood industry.
The company has been working with a University of Vermont Extension specialist to help get this new part of the business off the ground. The new partner in the business, John Plowden, is a former builder and cabinet maker and owns a portable sawmill. With John's building and furniture-making expertise, the plan is to produce small batches of custom, kiln-dried hardwood lumber using timber from their logging projects. This lumber can then be sold to furniture makers. For the time being, this will remain a small portion of their business as the plan going forward is to still do some commercial logging, but focus more on residential tree work and continue the sleigh rides in season.
Third Branch recently became the newest member of the VWWC. The company had been wanting to join the council for a long time, but the business was never in the right position to do so. Adding the lumber portion of the business has enabled Third Branch to join and bring their knowledge and the businesses' qualities to the Council. The team is excited about becoming a member as they feel the Council is a great way to learn about the industry, to network, and open access to new markets for Third Branch's products. In addition to the VWWC, Third Branch is a member of the Vermont Woodlands Association and is a Master Logger Certified company by the Northeast Master Logger Certification program.
To learn more about Third Branch and horse logging in general, check out their website at www.thirdbranchhorselogging.com
Next Blog Post