Vermont Sustainable Jobs Fund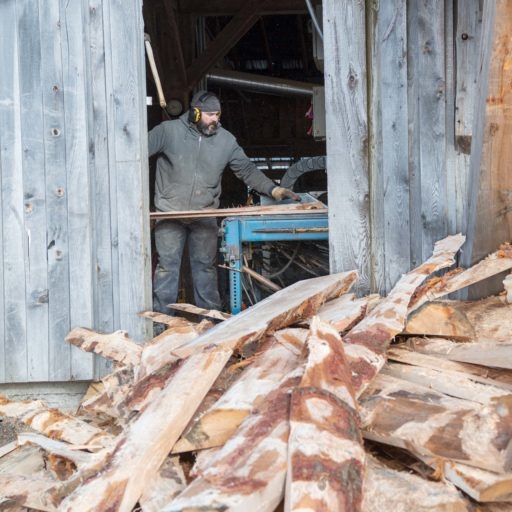 Making a Case for Community-Scale Forestry
With a mindset of staying small, a sawmill in Fletcher sees wood products as the next "go local" movement.
By Christine McGowan, Vermont Forest Industry Network
Tucker Riggs, owner of Laughing Stock Farm (LSF) Forest Products in Fletcher, is busier than he's ever been. As the pandemic and resulting supply chain issues more than doubled the price of lumber, Vermonters used to buying their lumber from Lowe's or Home Depot sought out alternatives—and found much more than competitive pricing at LSF.
"People like to talk with the person that's sawing the wood," said Riggs, "and they like knowing that the wood was grown just down the road from their property. They like that it was cut down by someone with kids in the same school and that they can buy their firewood from the same family next fall. That connection is lost when you buy wood products that were shipped out of the state or country for processing, and then shipped back for sale."
Riggs and his father, Terry, founded LSF Forest Products in 2003 with a nod to the family's farm—Laughing Stock Farm. For Riggs, working the land is part of his family's tradition, as is a good sense of humor. As he tells it, his father is a "character and a wonderful guy, always jumping into things headfirst." His parents got into farming in the 1970s when they bought a piece of land in Jericho. His mother, Mary Lynn, was a teacher and his father ran a construction company while the family raised livestock on the farm. The land turned out to be mostly swamp and, after a short experiment milking goats, Terry's in-laws, who owned a pristine dairy farm in Richmond, jokingly named their son-in-law's farm Laughing Stock Farm. The name stuck.
Despite the fact that business at LSF is up more than 60 percent, Riggs has no intention of growing much larger than he is today. Community-scale milling is an intentional part of his business plan and something he's passionate about preserving.
Read on for the full article...
Next Blog Post
By Christine McGowan, Vermont Forest Industry Network When three friends at Middlebury College couldn't find the perfect gift for their boss, they decided to make something special. Nathaniel Klein, Jacob…