Vermont Wood Gets New Name, Announces Awards at Annual Meeting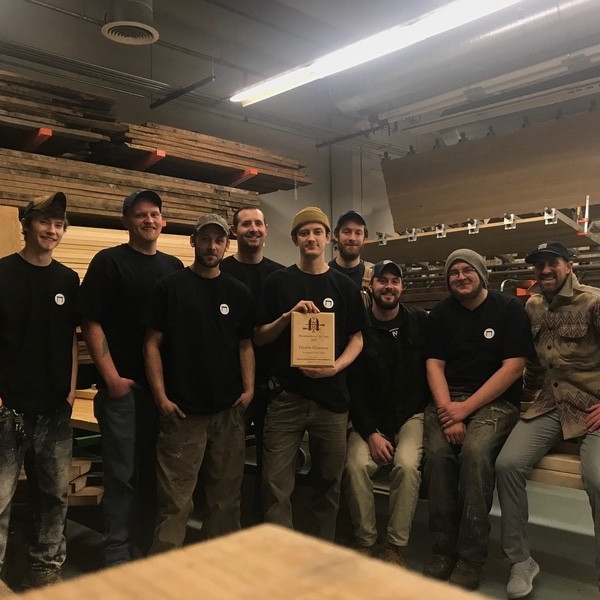 Vermont Business Magazine Vermont woodworkers and wood products manufacturers voted in January to change their trade association name to the Vermont Wood Works Council to better represent the interests of Vermont's diverse woodworking community. The name change, approved by the membership at the organization's annual meeting, was the result of many months of work by the board and a marketing committee to develop a name that meets the needs of small, mid-sized and large wood product makers in Vermont.
"We believe Vermont Wood Works Council best reflects our organization's mission to promote quality, craftsmanship and community within Vermont's diverse and talented woodworking community," said Board Chairman Brent Karner. The board contemplated several names and tested some within the industry by asking for feedback from business members in the woodworking community. "This new name better represents all of our member companies, the diversity and quality of the products being made in our state, and the programming our members want."
The board has spent the past year working on a strategic plan to reinvigorate the trade organization and has created new committees to improve member benefits. At the annual meeting, members heard from the association's four new committees: Marketing, Networking & Education, Policy, & Membership.
The policy committee presented the 2017 Annual Report, which highlights the Local Wood, Local Good Summit held in May 2017 with the Vermont Sustainable Jobs Fund (VSJF) and the Working Land Enterprise Board (WLEB) Forestry Committee as well as participation in a Forest Industry Communications Task Force and a Local Wood, Local Good Action Team with VSJF. The annual report is available for download at www.vermontwood.com.
The membership committee shared a new dues structure for companies that desire to make quarterly payments over the year. Members that had been members for 10 years and 20 years or more were recognized for their dedication and support. 20 year members include: Bob Gasperetti ~ Furniture Makers, Brown Novelty Co., Inc., C.E. Bradley Laboratories, Inc., Copeland Furniture, Currier Farms Forest Products, Dick Walker Sawmill, Etc., Ghostwriters Communications, Inc., J. K. Adams Company, Inc., Maple Landmark, Inc., Neudorfer, Inc., ShackletonThomas, Smead Woodcraft, VT Agency of Commerce and Community Dev., VT Dept. of Forests, Parks & Recreation, Vermont Manufacturing Extension Center (VMEC), and Vermont Hardwoods.
The Networking committee gave a review of 2017's successful woodworking mixers, which included shop tours, giveaways, tool demos, local food and drink, and networking. The next mixer, one of six planned for 2018, will be at Vermont Hardwoods in Chester on March 23, 2018 and all are welcome to join. Information is available on their website to attend.
The Council announced its annual Woodworking and Friend of Industry awards. Dustin Glasscoe, owner of Vermont Farm Table in Bristol, Vermont, won the 2017 Vermont Woodworker of the Year Award. Dustin, son of Buddy Glasscoe of Timberwolf Designs in North Carolina, was tutored in his dad's workshop as a young boy. In 2009, he established Vermont Farm Table in Bristol, which has grown rapidly since then. Reclaimed wood, which makes up about 50 percent of the business, earned Glasscoe the Vermont Retail Association's Greentailer of the Year award in 2013. He doubled his sales in 2017 and is planning to double again in 2018, and is currently hiring. Dustin states, "Our team is incredibly honored and grateful for this recognition. As you can imagine, we admire all VT woodworkers and their passion for the craft. Let's all keep up the great work!" Visit www.vermontfarmtable.com to learn more.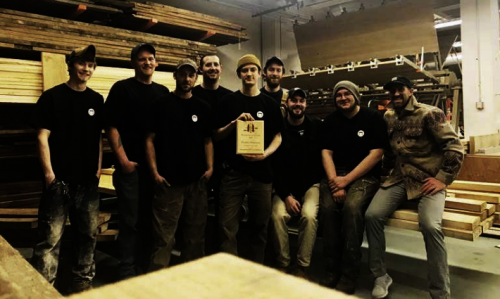 Above: Dustin Glasscoe, owner, and the employees of Vermont Farm Table in Bristol, Vermont
The Council also recognized the Vermont Sustainable Jobs Fund in Montpelier, VT as the 2017 Friend of the Industry. The award recognizes a person, organization, or group that has supported the growth and vitality of the sector. The Jobs Fund has been a longtime member and partner of the organization, serving as event sponsor, fiscal agent for grants, and offering business assistance services to member companies over the last decade. In 2016, the Jobs Fund launched the Vermont Forest Products Program to help support and promote Vermont's forest products industry through the development of value chain investment strategies to improve market opportunities for the industry. They are working closely with several forest and wood products trade organizations and other partners to form the Vermont Forest Industry Network, which is modeled after the successful Farm to Plate Network, to connect businesses across Vermont's forest and wood products supply chain, strengthen industry- wide relationships and explore new market development opportunities for Vermont's forest and wood products. Visit www.vjsf.org to learn more.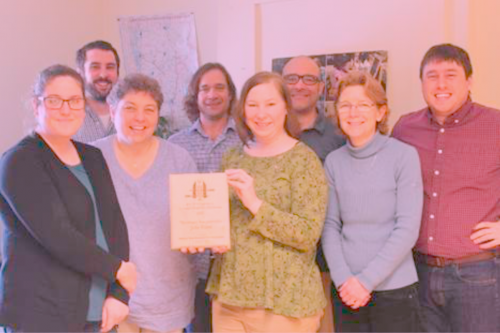 Above: The Vermont Sustainable Jobs Fund team with their Friend of the Industry plaque.
The Council also held the annual election of officers and Tim Tierney with the VT Agency of Commerce and Community Development was unanimously approved to join the board as an Advisor. Jon Blatchford of JK Adams and Joel Currier of Currier Farms Forest Products were re-nominated to the board of directors for three year terms. The following officers were approved for the 2018-2019 term; Brent Karner of Clearlake Furniture, President; Armin Driver of Copeland Furniture, Vice President; Mike Rainville of Maple Landmark Woodcraft, Treasurer; & Scott Duffy of Rockledge Farm Woodworks, Secretary. The Guild of Vermont Furniture Makers was again approved to appoint an affiliate representative to the board for another year. Other board members are Lucas Jensen of Tree House Hardwoods and Mill shop, Dustin Glasscoe of Vermont Farm Table, David Hurwitz of David Hurwitz Originals, and Advisors Christine McGowan of VSJF and Paul Frederick of the VT Dept. of Forests, Parks, and Recreation (Vermont FPR).
Attendees listened to updates from Vermont FPR, VSJF, Green Mountain Power, and the Vermont Farm & Forest Viability Program. Topics discussed included incentives and rebates for using modern wood heat, feedback from the VT FPR public meetings on the forest economy, and the announcement of the 1st annual VT Forest Industry Network Summit that will be held June 28-29, 2018 at Burke Mountain Resort.
In other organization news, the Council announced that the annual Vermont Woodworking Festival will be on hold for 2018 while the board re-evaluates how best to deploy organizational resources and focus on new initiatives that will benefit as many member companies as possible, including updating the Council's brand assets and website with the new name and a new logo.
The Vermont Wood Works Council represents primary and secondary woodworking companies and related businesses statewide. Vermont's forest products industry generates an annual economic output of $1.5 billion and supports 10,000 jobs in forestry, logging, processing, specialty woodworking, construction, and wood heating.
Our mission is to support the industry in Vermont and promote its long-term viability by expanding members' presence in the marketplace, ensuring a sustainable supply of raw materials, increasing workforce skill, and acting as responsible employers and community members. Visitwww.vermontwood.com to learn more.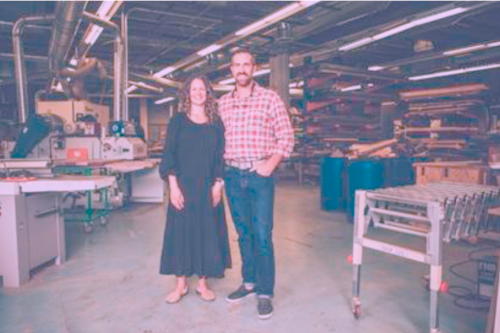 Above: Jessica and Dustin Glasscoe, owners of Vermont Farm Table in Bristol. Dustin is the 2017 Woodworker of the Year, an award given out annually by the Vermont Wood Works Council.
Source: West Rutland, Vermont Wood Works Council
Next Blog Post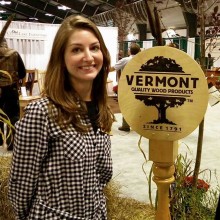 Rutland - The Vermont Wood Works Council, formerly known as the Vermont Wood Manufacturers Association, has announced that Erin Lorentz of GWC will take over the position of Executive Director, previously…