Vermont Wood Works Council Announces New Director and Branding Effort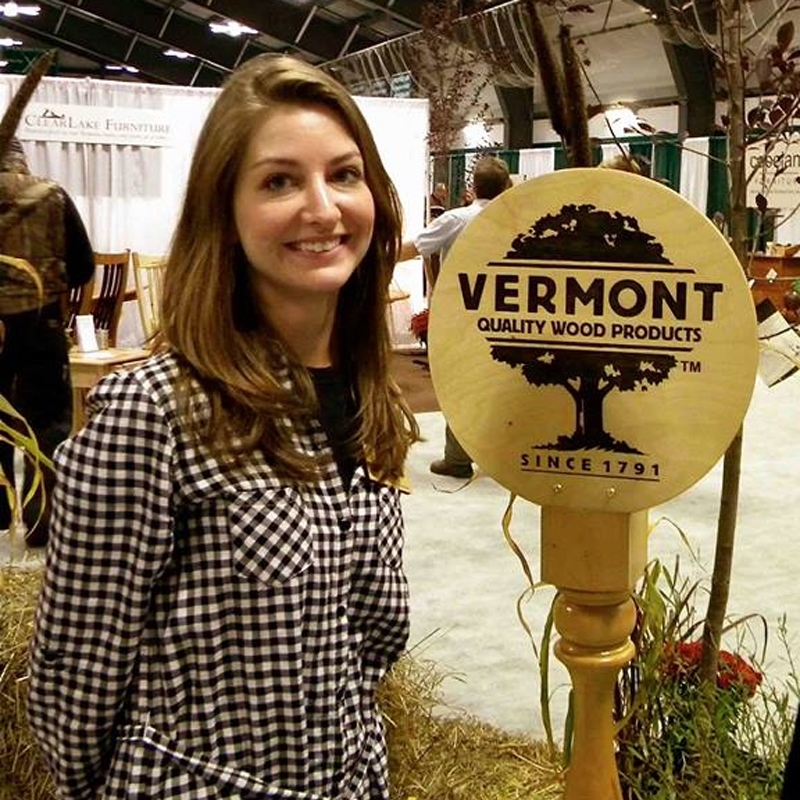 Rutland - The Vermont Wood Works Council, formerly known as the Vermont Wood Manufacturers Association, has announced that Erin Lorentz of GWC will take over the position of Executive Director, previously held by Kathleen Wanner, also of GWC in Rutland, VT. Lorentz has worked for the association since 2006 and has handled communications, events, and other administrative services for its members.
"We're excited that Erin will be taking on this new role for the Vermont Wood Works Council," said Council Board Chair Brent Karner of Clearlake Furniture. "With a new name and a reinvigorated strategic plan, we have a bold agenda ahead and we're pleased that Erin will be helping to lead this effort."
Lorentz graduated from Castleton State College in 2004 with a Bachelors of Arts degree in Sociology with focuses on Communications and Environmental Studies, and is also a native Vermonter.
"Kathleen's service and dedication to the industry is deeply appreciated. She was an early voice for improving the Vermont forest products supply chain, long before the current focus on the working landscape. I have to think her input has helped to bring the conversation to the level it is at today. That has helped not just the crafters of wood products but everyone who connects to the woods", said Mike Rainville of Maple Landmark, past President and current board treasurer.
The Vermont Wood Works Council is a 501C(6) trade association that was formed in 1996, which represents woodworking companies and related businesses in Vermont that produce quality hardwood furniture, bowls, toys, carvings, flooring, windows, doors and much more. The mission is to support the industry in Vermont and promote its long-term viability by expanding members' presence in the marketplace, ensuring a sustainable supply of raw materials, and increasing workforce skill. The Council offers several networking or educational mixers for members and other woodworking businesses. "The Council plant tours and meet ups have provided members with an outstanding opportunity to exchange ideas and learn from each other. Each meet up has focused on different topics, ranging from Lean Manufacturing and marketing, to the challenges of managing a start-up business. This has had a positive impact on many members businesses and, we believe, on the industry as a whole", adds Jon Blatchford from JK Adams Co., Council board member.
One of the first projects for Lorentz and the Council's marketing committee will be the rebranding of the association with its new name, new logo, and new website. The Council recently selected Eternity Web Marketing of Burlington to develop a new logo and web design. Eternity has designed SKiVermont.com, Vermont Maple Sugar Makers' Association's website, as well as websites for Switchback Brewing Company and the Ben & Jerry's Foundation.
The new mobile-friendly website will offer more functionality and better marketing for member-businesses. The rebranding effort is supported in part by in the Vermont Sustainable Jobs Fund Forest Products Program and a marketing grant from the State of Vermont Agency of Agriculture.
The Vermont Wood Works Council is a promotional partner of the 1st Annual Vermont Forest Industry Summit, June 28 & 29th at Burke Mountain Resort. The event will feature regional and national industry experts as well as sessions that explore all aspects of Vermont's local wood supply chain. Information on registering is available at http://www.vsjf.org/programs/vermont-forest-products-program/vermont-forestsummit/
Next Blog Post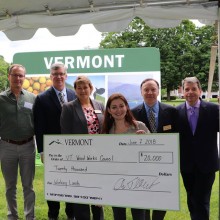 The Working Lands Enterprise Board awarded over $750,000 in grants to 25 Vermont agriculture and forest sector businesses and service providers at the State House today, in support of businesses and organizations…