SAVU Sauna Experience Begins in Vermont Forest
By Christine McGowan, Vermont Forest Industry Network
Dave Nelson is on a mission to bring sauna culture to the United States. With his partner, Nicole Sweeney, Nelson founded SAVU in Cambridge, Vermont with the construction of a contemporary sauna nestled in the woods overlooking Smugglers' Notch.
"We are creating a modern sauna experience that celebrates being outdoors," said Nelson. "The connection to nature is something we felt was missing from traditional sauna experiences."
Saunas, also known as sweat baths, have been used for centuries to promote healing—a practice Nelson began to explore as a competitive athlete. But, he says, most sauna experiences are culturally specific, with nods to Turkish, Russian, and Japanese roots, and typically communal, which can be intimidating to the uninitiated.
"We felt there was an opportunity to create something uniquely American," said Nelson. "Our customer prefers a private sauna and a contemporary aesthetic with an emphasis on nature and wellness as opposed to communal sweat bathing." He envisions a network of sauna experiences around the country and is exploring a pop-up model, in which their saunas are placed in stunning outdoor locations and rented by the hour.
Connecting to Nature
Winding up a residential dirt road in Cambridge, Vermont, one could easily imagine they were lost, until they come across a small sign leading guests to a cluster of compact, modern structures among the trees overlooking a sweeping view of the mountains. In addition to the sauna, the SAVU experience in Cambridge offers a changing room, outdoor fire pit, and cold water from a spring-fed well on the property to cool off.
Sitting above co-founder Nicole Sweeney's family home, guests have an unobstructed view of the surrounding forest and nearby Smugglers' Notch. Her dad, Pete Sweeney, co-owner of Sweeney & Belisle Construction, helped build the initial prototype sauna that is still in use today. A family affair, Sweeney's mom, K?ren, greets guests with robes, sandals, and firewood encouraging them to bring snacks and linger while enjoying the view.
Since opening the site in Jeffersonville, Savu has launched a second location on the Lake Champlain waterfront. In partnership with Vermont-based VC fund and start-up accelerator, Hula, Savu operates two saunas adjacent to the Hula co-working space and the Burlington Surf Club.
"We hope that by creating opportunities for people to experience the world around them while they are calm and relaxed, we might motivate them to think differently about sustainability," said Nelson.
Next Blog Post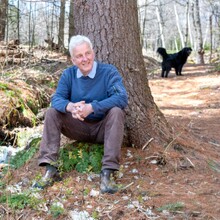 By Christine McGowan, Vermont Forest Industry Network Charlie Shackleton hand planes a piece of wood in his workshop at ShackletonThomas in Bridgewater. Charlie and his wife, potter Miranda Thomas, established…